News
Orlando International Airport's Expansion Set to Begin
October 21, 2014
Orlando International Airport is set to begin the first phase of a the "South Terminal project" which will cost around $470 million. The expansion is known as the "South Terminal project", and will cost over $1 billion in total.  The first portion of the project is to extend the people-movers, the trains that take passengers from the main airport terminal to their respective gates. However, the Greater Orlando Aviation Authority is seeking funding from the FAA first. Once the funding is approved, the project calls for a new people mover to be built, along with a fixed concrete guideway linking to the North Terminal complex, and public roads and roadway improvements needed to access the new facility. There will be six new people movers, and building, designing and testing the driverless people movers will cost about $75 million and will be a 3 year process, according to Phil Brown, an airport authority executive.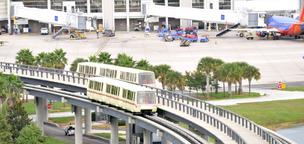 Turner Construction has won the contract to manage the construction, and they have previously worked on the people mover and rental car facility at Miami International Airport.  Turner has also performed the work on JetBlue's 150,000 square foot extension of Terminal 5 at John F. Kennedy International Airport.
The next phase of the project will include building a parking garage next to the people movers, and up to three platforms for passenger trains, including the SunRail train, a $1.5 billion train from Orlando-to-Miami called All Aboard Florida, and train connecting to International drive.
More construction coming to Central Florida, which means Walker Miller Equipment can help meet your construction equipment needs. Give us a call at 407-299-2620!
Find Any Part By Number