News
FDOT Releases Designs and Milestones For I-4 Project
November 10, 2014
I-4 Mobility Partners, the design/build of the Interstate 4 renovations, presented their design and construction milestones with the Florida Department of Transportation (FDOT) to the Orlando City Council on November 3rd.  The construction will involve completely tearing up and replacing the existing road, along with some improvements, such as the 4 tolled express lanes in the middle of the interstate.
The design started on October 4, which was when FDOT issued it's "notice to proceed". The next notice to proceed will be in February, which means that the construction will start. The construction undoubtedly will be a headache for the thousands of commuters that take the stretch of highway that is being rebuilt,  it will take about 6 years to complete. But the highway will be an easier ride and look better aesthetically.  FDOT and I-4 mobility partners will have a central office in Maitland, and also have four field offices along the highway in order to make sure the project runs smoothly.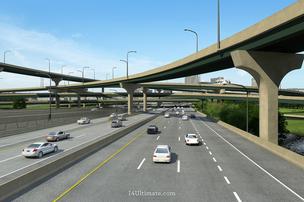 The I-4 project is much needed and another exciting construction project in the Central Florida area! Give Walker Miller Equipment for your construction needs!
Find Any Part By Number